Mr. William Hoppe
Associate Director, Science, Technology, & Engineering
Mr. Chuck Hoppe serves as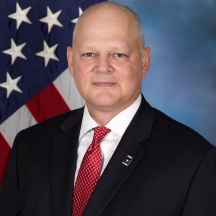 the C5ISR Center Associate Director for Science, Technology, & Engineering (Assoc. Dir. ST&E). He is responsible for oversight of the organization's science, technology, and engineering portfolio.
Mr. Hoppe joined C5ISR Center as the Associate Director, ST&E in November 2016. Prior to his selection to the position, Mr. Hoppe worked in the defense industry, as a program manager for Praxis Engineering Technologies, Inc. focused primarily in the Intelligence and Cyber domains. Prior to joining industry, Mr. Hoppe served 30 years on active duty, retiring from military service in May 2013. Throughout his career, he has been a small unit infantry leader and staff officer and served on the U.S. Army and Office of the Secretary of Defense staffs and U.S. Forces Afghanistan (South) staff. He transitioned from the operational force in 1999 to the Army Acquisition Corps where he has managed small to very large programs for the Army and the Department of Defense in both the software and hardware domains.
Mr. Hoppe has a Bachelor of Science degree in General Engineering from the United States Military Academy, West Point. He has three Master's degrees; a Master's of Science in Computer Science from the Naval Postgraduate School; a Masters of Arts in National Strategic Studies from the College of Naval Command and Staff, Naval War College; and a Master's of Science in National Strategic Resourcing from the Industrial College of the Armed Forces. He was one of the original cohort members, of the Uniformed Army Scientist Program. He is Defense Acquisition University Certified Level 3 in Program Management, Information Management, and SPRDE-Systems Engineering.
His military awards include the Defense Superior Service Medal, Legion of Merit with two oak leaf clusters, Bronze Star Medal, Defense Meritorious Service Medal, Meritorious Service Medal with two oak leaf clusters, Army Commendation Medal with oak leaf cluster, Army Achievement Medal with two oak leaf clusters, Afghanistan Campaign Medal, NATO non-Article 5 Medal (ISAF), Army of Occupation Medal, Joint Meritorious Unit Award with oak leaf cluster, Expert Infantry Badge, Parachute Badge, Secretary of Defense Identification Badge, Army Staff Identification Badge.
Mr. Hoppe is a member of the Institute of Electrical and Electronics Engineers (IEEE), the Association for Computing Machinery (ACM), the Association for the Advancement of Artificial Intelligence, and is a Project Management Institute (PMI) certified Project Management Professional (PMP). He is also a Life Member of the Veterans of Foreign Wars, a Life Member of the American Legion, and a member of the "40 & 8" (La Societe desQuarante Hommes et Huit Chevaux).
He resides in Edgewood, MD with his wife Deanna, they have a daughter and two sons.